The Center for Russian and East European Studies
Presents a Film Screening by
Marianna Yarovskaya
A Russian-American director and filmmaker and a former correspondent for Russian State Television, Yarovskaya graduated from Moscow State University, then worked for a prime time news station on Russian television before obtaining her MFA degree in film production from the University of Southern California.
Film Screenings will include:
Undesirables



reveals how homeless youths and other marginal residents were swept out of Moscow by Russian police in preparation for high profile events, including the 1998 International Youth Olympics. The film follows the stories of four young runaways in different parts of Russia. Three of them ran away from their provincial homes to Moscow. The film depicts Moscow's juvenile detention center and documents the children's eventual deportation from the capital back to their abusive families or to reform schools in the provinces.
HOLY WARRIORS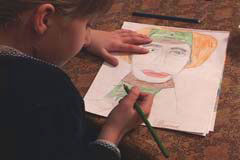 chronicles the spiritual upheaval brought about by war on those involved, offering profound insight into the resilience of the human spirit during trying times. It demonstrates the traumatic effect of enlisting unwilling soldiers in wartime, while raising the pertinent question of the links between war and religion, through these direct manifestations of fear and hate, love and faith in modern-day society. "There are no atheists in a foxhole," as one of the characters puts it.
February 15, 2006
White Hall 206
6:00 pm